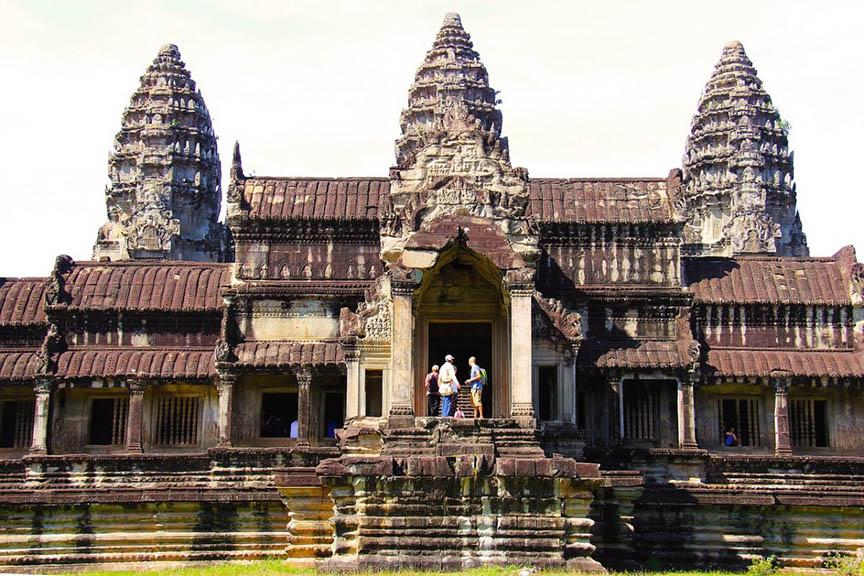 Getting a Visa to Cambodia from Thailand
With plenty to see and do, it's not a surprise that you'd want to extend your stay in Thailand well beyond the 30-day period.
Because really, when is a month ever enough to see everything?
There are several ways to extend your stay. But if you're travelling visa-free, your best option is to travel from Thailand to Cambodia for a visa run.
As the name suggests, you're basically running from one place to another to reset your visa-free stay. Upon exit, you will get an exit stamp in your passport and you will be able to re-enter Thailand.
Flying out from Thailand to Cambodia would be the most convenient way. There's less scrutiny from the border officers as well.
But if you can't get an affordable plane ticket, you can always cross the Ban Laem/Daung border. Ban Laem is on the side of Thailand, while Daung is on the Cambodian side.
Now, it's important to understand that getting an exit stamp doesn't mean you can re-enter right then and there. A certain amount of time must pass before your re-entry.
With this mind, you might as well apply for a Cambodia visa, so you can explore beyond Daung and the rest of the Kingdom of Cambodia.
There's no might as well about it actually, because acquiring a Thailand to Cambodia visa or a business visa is a necessary part of the process as you will discover later on.
A little bit about visa for Cambodia from Thailand
Cambodia Visa Requirements
Passport that is valid for a minimum period of 6 months from the date of entry into Cambodia and is valid for a minimum period of 6 months for any subsequent visa extension or renewal from within the country
Passport photograph
Valid work permit (for those visiting the country for business)
Emergency travel documents
Visa run fee
Visitors from countries that are not under "Visa Exemption Agreements" (information you will find below) are required to apply for a business or tourist visa that is valid for a month at any point of entry.
As for Cambodian nationals, they can be issued a "visa K", provided that they can present documented evidence that their parents are Cambodian.
As for getting a visa for US citizens, you can check out this page.
Cambodia Visa Cost
$30 – single-entry visa fee for tourists for a 30-day stay
$35 – single-entry visa fee for business travelers for a 30-day stay
Costs would also include passenger service charges or airport taxes.
For international travel for foreigners:
Adult – $25
Below 12 years old – $13
Below 2 years old – FREE
For international travel for Cambodians:
Adult – $18
Below 12 years old – $10
Below 2 years old – FREE
For domestic travel for foreigners:
Adult – $6
Below 2 years old – FREE
For domestic travel for Cambodians:
Adult – $5
Below 2 years old – FREE
Entry Points to Obtain a Cambodia Visa
Airports:
Siem Reap International Airport
Phnom Penh International Airport
Border Check Points:
Poi Pet in Banteay Meanchey Province
Choam Sanguam in Banteay Meanchey Province
Cham Yeam in Koh Kong Province
Sihanoukville in Sihanoukville Province
Osmach in Odor Meanchey Province
Doung in Battambang Province
Preah Vihear in Preah Vihear Province
Now, back to the Thailand to Cambodia visa run …
When crossing by land, you need to travel for about 4 hours to reach the Ban Laem/Daung border.
Once there, head to the Thai Immigration building for a Thai exit stamp on your passport. Since you can't go back the way you came in, you need to exit to Daung. You will now officially be in Cambodia.
Since everyone who crosses the borders and checkpoints must present a visa, you should get a Cambodia visa on arrival.
Be sure to have Cambodia visa requirements at the ready, check out the list above, and have enough money to cover the visa cost.
Once obtained, you can then explore Cambodia.
You also have the option to get a visa for Cambodia before you exit Thailand.
You can process and complete your visa for Cambodia before your travel dates online. Or, you can get a visa from the Cambodian Embassy in Bangkok. This will ensure you will have no problems with border authorities upon entry.
Whether you want to stay for just a day or use out your 30-day Cambodia visa, is entirely up to you.
Exiting Cambodia and Re-Entering Thailand
This one will be easier since you don't need to get a visa to re-enter Thailand.
Just drive back to Daung and do the reverse of what you did on your visa run from Thailand to Cambodia.
Clearing immigration at the Thai Immigration building should not be a problem.
Have Fun on Your Visa Run
Rather than think of this as an incovenience, take the opportunity to explore one more amazing travel destinatiion.
Thailand is beautiful. But Cambodia has someting unique to offer.
Check out our blog to gather useful information on visiting the best places in the country such as Phnom Penh.
Happy trip!