SERVICED APARTMENTS AND ROOMS
Boutique Guesthouse in Phnom Penh, Cambodia
YK Art House is a boutique guesthouse in central Phnom Penh, with contemporary art gallery STP Cambodia and vegan restaurant Bong Bonlai on the premises.  Located a 20 min walk from Riverside and a few blocks from St 308 (a funky neighborhood of restaurants, and bars, including Bassac Lane). Our neighbors also include Yoga Phnom Penh, Amboh shoes, Dorsu, and many more local businesses.
We have eight double rooms with private bathrooms, one studio apartment and five one-bedroom apartment units that additionally include cooking facilities and a living room, catering both to travelers wanting to prepare their own meals, and long-term guests. We always welcome our guests with a clean and fresh room, in a quiet and  beautiful setting. Families with children, artists, researchers,  as well as those on business trips looking to get away from the standard hotel experience have enjoyed staying with us, and many have returned to re-experience our homely atmosphere.
Your stay supports several worthwhile causes. The facilities fund Seametrey Children's Village – a Montessori-style school with a mission to support disadvantaged children. We also strive to support artists through our art gallery. Through fundraisers and awareness-raising, we support the Animal Mama's work with Phnom Penh's street animals. Please contact us to find out more about any of these programs!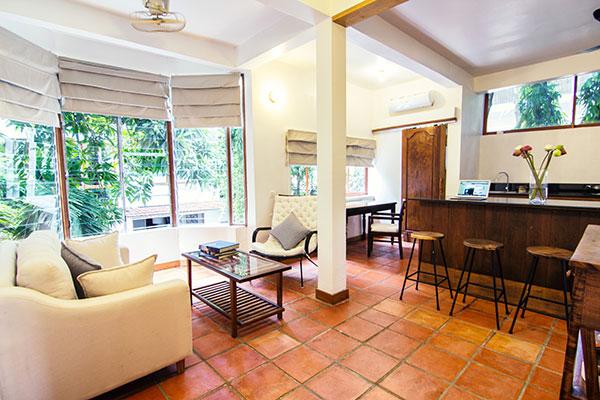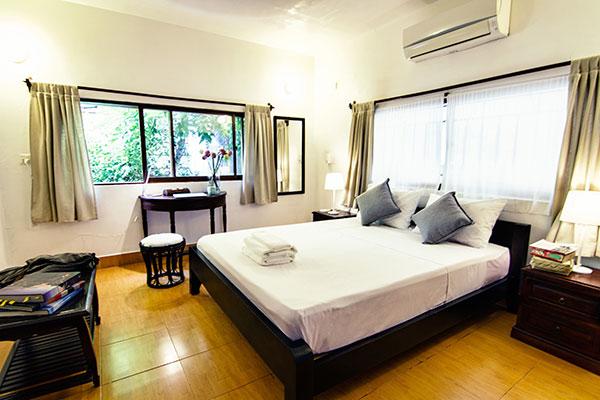 7 UNIT TYPES
Rooms And Apartments
YK Art House
Tripadvisor Reviews
This place was perfect. I don't mean it was the most fancy or nicest hotel by any stretch. However, it was clean and comfortable and, most importantly, had a really relaxed vibe and ethos about it. The feel of it was a bit like a hotel you'd expect to find on a tropical island. Just a really pleasant escape from bustling Phnom Penh. And the environmental and ethical bent of the place is a big bonus as well.
Very nice hotel, spacious rooms, good airco and Wi-Fi and location relatively quiet in chaotic city. Nice warm showers and good breakfast (not included) in vegan restaurant downstairs. Free drinking water which they purify themselves. Perfect place to stay and highly recommended!
The rooms were very simple, spacious, clean and had all you needed. Staff were very helpful with booking taxi's, tuk tuks etc. The pool under the banyan tree was an oasis worth returning too after a morning's sight seeing. Would definitely stay here again.

My husband and I live in Phnom Penh with our two dogs and two cats. Sometime We'd like to have a staycation in a hotel, YK Art House is close to town center, very resonable price, and they treat pets so well! We have a great time in our apartment room!
Really enjoyed our stay here. Friendly team who run a pet friendly hotel. It's in a quiet lane way and close to street 308 street /bassac lane which is full of great bars and restaurants and a hang out for expats. The 241 cocktails by the pool were great. The rooms are adequate and very quiet. Our room had a bath but we didn't use it. There is a tuk tuk driver named Yim ( pronounced Jim) who is often out the front of the hotel whom I highly recommend- very honest and helpful. The hotel would do well to grab him as their recommended driver. Will definitely return.
"Beautiful house with tastefully designed, clean and comfortable rooms for little money. They're also eco-friendly, which is still relatively novel in the region."
STIJIN C.
PHNOM PENH BLOG
Ideas for life in the city