YK Art House was designed and built by Cambodian architect and prolific painter, You Khin. After practicing architecture around the world, You Khin and his wife Muoy Svay returned to Cambodia to establish a school that provides a quality education and support to disadvantaged children. The school is now located at Seametrey Children's Village at Tonle Bati (an hour from Phnom Penh). In addition to YK Art House, the Seametrey Leisure Center Resort raises funds for running the school. Contact us to arrange a day visit or for more information on facilities at the Leisure Center in Tonle Bati!
The facility was revamped into a small boutique hotel in 2017. We provide guests with stylish rooms in two buildings separated by a tree-lined outdoor area. YK Art House features an art gallery on the ground floor, that can also serve as a dining space for events. A restaurant, swimming pool and travel desk are also located on-site. Various events are hosted throughout the year – see our calendar.
Contact us for further information on the gallery, supporting Seametrey Children's Village, participating in the art residency program, or reserving the space for special events.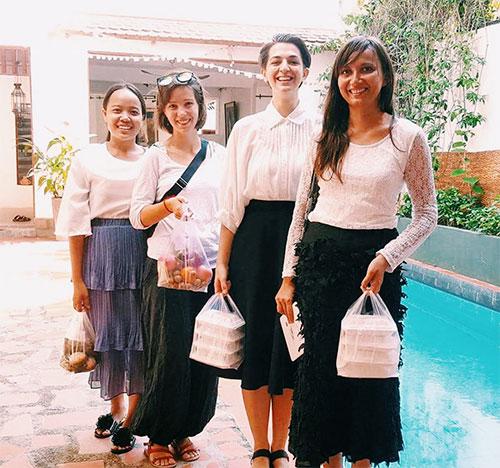 Tonle Bassac neighborhood
Tonle Bassac is one of the last remaining neighborhoods in central Phnom Penh to retain an old city feel with its small, tree-lined alleys, and even a few traditional wooden houses – though these are now flanked by restaurants, bars, villas and condominiums. From the airport, expect around a 40-minute drive to the hotel. There's a lot going on nearby: in addition to small boutiques and cafés, AEON Mall 1 is just 5 minutes away on foot from the hotel, while the Royal Palace, Independence monument National Museum and Riverside are all 5-10 minutes away by tuk-tuk or 20 minutes on foot. See our Phnom Penh Guides for more things to do and see in the neighborhood.
We conduct regular fundraisers to support You Khin's education mission.
SEAMTREY CHILDREN'S VILLAGE